From my various news sources, I hear that something pretty important and, in some cases, historic happened last night. I guess I should have stopped marathoning my
Alias
dvds and paid attention to the news. But before we get to that, I apologize (yet again) for not keeping this LJ mine a bit more up-to-date, but this time I have a good excuse. Not only did the worst natural disaster to ever hit New York City interfere with normal life around my neighborhood for a nice chunk of time, but I also had an unfortunate accident that resulted in a trip to the hospital and a barely function leg. Don't believe what they tell you, folks, jogging is indeed a contact sport. Now that I am somewhat healed and my mind can focus on something other than hurricanes and learning to walk again, let's move to that small, unimportant thing that happened last night...
BARACK OBAMA WINS A SECOND TERM AS A PRESIDENT OF THE UNITED STATES
And with this act, America avoids becoming the punchline of an international joke for the next four years. As a Obama supporter, and as those of you who watched the coverage all last night can attest, those few early hours of election returns drove me to drink, caused some mild heart palpitations and resulted in a few ulcers. Even though the President's so-called "path to 270 electoral college votes" was assured by polling and math in the days leading up to the election, no one can predict if those "likely voters" polled will actually, you know, show UP to the polls, but show up they did, in numbers so great in certain states that polling places had to stay open three hours past official closing time. They showed up despite some devious and cynical challenges from mostly Republican operatives who tried to suppress the vote with unfair laws, cutting down on early voting and general misinformation. And in this respect, I have never been prouder of my nation. But back to my night of worrying and drinking ... when it was 10 o'clock and it was still anyone's game, I was having a minor freakout and thinking about my escape to Canadian, New Zealand or any other place that would have me. In the end, the President's victory was, by no means, a decisive one, but it still a strong one. Behold the beauty of the electoral college map, virtually unchanged since last election.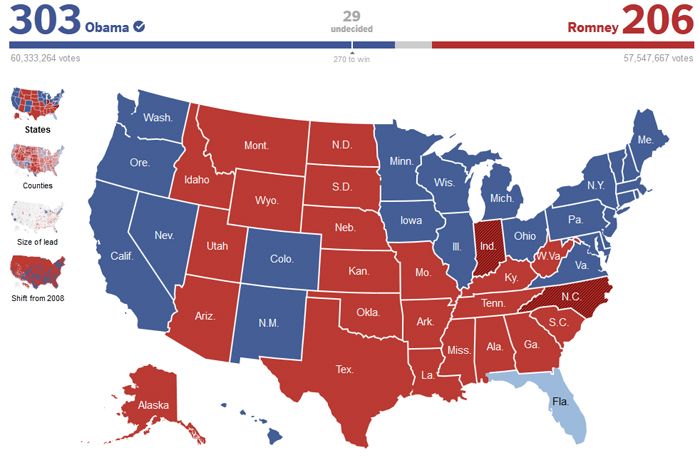 (
Election Analysis No One Will Read
Collapse
)
How I'm Feelin':
happy